Weekly Math Updates
November 15, 2006
Contents:
WE'VE WON
Legislature Resolution
An Overdue Question
Marsh Kaminsky and Mathino
My Picture
Media Articles

(Including major NY Times piece)

WalMart Boycott (non-math related)
Weekly Comic
WE'VE WON --- VICTORY (ALL CAPS)
WE DID IT!!!! IT'S OVER. The Education Committee today passed a resolution (see below) to revise Utah's math standards and align them with the best countries in the world. We're going to get great standards and all the fuzzy math programs will have to undergo huge revisions if they ever want to be used in Utah again. This will take a little time but it's finally happening. The resolution level is not rule of law, but more of a bully pulpit action with the education committee telling the State Office of Education to make it happen. The person in charge of the new committee has been chosen and is a mathematician at the University of Utah. This is the ultimate long-term victory. Take a deep breath and then give a loud cheer.
I'd like to personally thank a couple key people who helped make this happen. First and foremost is Howard Stephenson who recognized the problem a long time ago and helped me get into the legislature earlier this year to trigger a review of the standards. Howard has been and will continue to be a great advocate for stronger education. Please continue to support him.
Next is Dr. David Wright at BYU who got the Ph D community on board with his own petition to adopt California's standards. We're not adopting CA's yet, but will pull good stuff from them and follow their lead in developing what I hope will be the very best standards and plan of implementation in the world. David was key last month with Dr. Jim Milgram (another big THANK YOU and to my other national friends) in shooting down the Utah standards as exceptionally weak.
David Cox was also of great value in encouraging me and helping keep me on track when I felt the need to wander a bit. We differed on the bond issue, but those things happen in friendships and I'm lucky to count David among my friends.
There are many others that played a role in helping to bring this all about, especially those of you that actually took special action at times when it was needed and contacted your principals, teachers, legislators, media, helped candidates, etc... In fact, those of you "rainy day patriots" that went out and delivered flyers for Tim, I have a little surprise for you if you keep reading below... The rest of you will get something too, but it ain't gonna be as nice. :) Also, if you still have one of Tim's yard signs, please email him and he'll come pick it up (osbots@yahoo.com).
I'd like to thank all of you who encouraged me and actually read my emails each week. I've explained at times why I've done this, but if I didn't feel like anyone cared I would have stopped a long time ago and just took care of my own family.
Last, I suppose I should thank ASD. Without you, this never could have happened. :) Thank you for finally benefiting all the children in Utah. In one grand sweeping action, our state will finally clean house. We are all in your debt. Literally. For hundreds of millions.... :)
The only thing really left in Alpine district is to ensure the district chooses two good math programs that will meet with future state standards so they don't have to change again in a year or two. I'd recommend to the district that they take notice of the programs allowed in California as those will be much closer to the new state standards than any other programs available. Here's a link for you school board members and teachers that read my emails. Oh, and ASD will want to start finding programs for the upper grades too, as those will not be in line with the new standards as the current programs (CMP and IMP) are pitiful as well.
Elementary Programs: http://mathematicallycorrect.com/adopt.htm
Middle School Programs: http://www.csun.edu/~vcmth00m/mmath.html
California Math adoptions for 2001: http://www.cde.ca.gov/ci/cr/cf/math2001pub.asp
California Math adoptions for 2000 w/grades on curricula: http://mathematicallycorrect.com/calbooks.htm
I'd still like to see Singapore or Saxon as one of the choices. A Singapore math program properly implemented with teacher training would set up ASD as one of the premier districts in the country. Done right, nobody would be above us in skill and comprehension. We should look at using Singapore for about K-8 and then a very strong upper set of course work such as McDougall Littell's Dolciani texts.
So the burning question now is, am I going to keep sending you weekly emails or not. The answer is yes I will to keep you informed on things that are happening with this particular fight. There are also a couple of special reports I want to research and deliver to you on charter schools and great administrators we've had in this country (and what happens to successful people in the education community). I hope you'll stick around. Besides, the WMD comics will continue. I've even added a thumbnail page on the site:
http://www.weaponsofmathdestruction.com/thumbnails.cfm
Legislature Resolution
Resolution of the Public Education Interim Committee

Utah State Legislature

November 2006

Whereas, knowledge, skills and abilities in math, science and technology are of great importance to the economic vitality and future in Utah and the United States, and

Whereas, Utah's math scores on national and international benchmarks show success in some concepts but weakness in others, and

Whereas, while Utah's highest achievers in math take more advanced math than peers nationwide, there is yet an achievement gap in math for other Utah children and it is wide and pernicious, and

Whereas, the single most important factor in student achievement that is controlled by public education is the quality of the teacher and his/her content knowledge and ability to help each child understand math, and

Whereas, there is national debate about the appropriate method by which math should be taught, and

Whereas, Utah intends to clearly declare its expectations from out of that debate and ensure that as students graduate from high school, they are able in math and can provide the backbone for a steady stream of engineers, scientists, computer scientists, and mathematicians for the future of Utah in industry, education, and business, including the Utah Science, Technology, and Research (USTAR) initiative, and further,

Whereas, students in Utah must be able to compete against both national and international peers, it is therefore

Resolved, that the Utah Legislature's Public Education Interim Committee (Committee) endorses the plan for a full review of math standards by the Utah State Board of Education (USBE) to result in world-class math standards, and further,

Resolved, that the standards identified are benchmarked against the highest performing states and countries, and further,

Resolved, that the process for review should be under the direction of the USBE and include a wide spectrum of math content experts as well as math education experts who utilize current research in their review, i.e., Focal Points (National Council of Teachers of Mathematics), National Math Panel recommendations (expected January/February 2007) and the math standards of the highest performing states and countries, and further,

Resolved, that the review include the identification of key standards, including a clear standard for quick recall of basic facts in early elementary grades, and further,

Resolved that the review include key standards for the fluency and understanding of standard algorithms of whole number arithmetic in elementary grades, and further,

Resolved, that the review include an agreement of the appropriate use of calculators, and further,

Resolved, that the Committee further endorses the USBE expectation of greater math content expertise by teachers in grades 4-6, where math foundations must be firmly rooted, and will work closely with the USBE to ensure financial incentives for such endorsements, and further,

Resolved, that the Legislature will work closely with the USBE to provide for interventions for students who struggle and for acceleration options for students who can accelerate their learning and that this process will lean heavily upon excellent math software and computer-aided instruction, and further,

Resolved, that the Committee supports the USBE in their work to strengthen accountability as it relates to ensuring the core is taught in every classroom in the state.
An Overdue Question
In the absence of any studies that support Investigations math and other forms of discovery learning, I must ask this question. If education school graduates leave college believing that when children discover things for themselves they remember it better, did they as education students discover that knowledge for themselves or were they taught it by rote memorization in the classroom?
Marsh Kaminsky and Mathino
Remember a couple months ago when I linked to an article online about a math card game called Mathino? If not, here's the link again.
http://www.brainy-child.com/article/kid-math-help.shtml
Well, after reading that article I contacted Marsh, the creator of Mathino, to ask him about it. I learned that he'd never printed any copies and had just been playing the game by marking up playing card decks to fit his custom needs. I asked Marsh about possibly marketing the game and getting some printed up and he declined at first, but shortly thereafter changed his mind. Last week, I flew to Chicago to meet Marsh and acquire the rights to publish and market Mathino and a software product he developed called Ozzie, which has been enthusiastically endorsed by the reigning U.S. Scrabble champion. Here's my report.
In speaking with Marsh on the phone before going out, I knew he was a kindred spirit as he has fought the education establishment for 25 years. He now fights the battle of his life as he is confined to a wheelchair due to falling victim to multiple sclerosis.
One of the great observations Marsh made is that over the years we keep getting fads in education that come through because there's no money in finding out what works. "Success is cheap," he said. Publishers need to sell books and the way you do that is to support major changes in the content of the books so that everyone needs to purchase a whole new set. If we had listened to Project Follow-Through years ago and plunged the research money into making direct instruction programs even better, instead of spending millions trying to improve fuzzy math programs (which didn't improve anyway), our country would be light-years ahead of where it is currently.
Marsh also spent those 25 years doing research on early learning. In fact he wrote a book on it. This book describes how Marsh taught his two year old the alphabet, phonics, and math, so that by the time he entered Kindergarten he was reading at a 5th grade level. It forever shattered the education establishment's nonsensical illusion of "developmentally appropriate" timing of teaching concepts. Marsh said if he'd known what educators knew, he would never have tried to teach his son and never discovered the joy young children get out of spending time with their parents playing and learning more about their world. He would have believed such actions were inappropriate or even harmful. Instead, his son has an extremely high IQ as a result of being stimulated in that way.
Another topic we discussed is the early development of the brain. I've got a collection of articles to read now to get more up to speed on this, but what researchers have learned is that learning starts before birth while inside the womb. The first five years of life are the most critical for brain development and so everything that can be done to stimulate the brain and encourage a child's creativity or thought processes helps build brain-muscle-mass and dendrite density which will significantly raise the IQ of a child for the rest of his or her life. The notion that we should let children develop at their own pace has some truth to it. It's just that the establishment would have you believe that shouldn't take place until kids are older or you might harm them.
After speaking with Marsh about this a couple months ago, I decided I would start teaching my then 3 year old the alphabet. She would play computer games and we'd sing the alphabet song, but there was no specific training to learn the letters. So one day I brought out the alphabet flash cards and we had a dinner place mat with the whole alphabet on it, and I started to ask my daughter to "find the letter K" and so on. It took about 0.023 seconds for this to become fun for her. She wanted to play this game with dad. Then we eventually moved on to "what letter is this?" and I'd hold up a letter and then we'd both sing the alphabet song until she got to that letter. In the beginning, every single day at some point she'd say, "DAD, WE'VE GOT TO DO MY LETTERS!!!" The pressure, as Marsh explains in his book, in on parents. The kids feel no pressure to learn. They get excited. Now my daughter is recognizing many letters and their sounds and learning words that start with them.
So here's where those presents come in that I was talking about above. For those of you that helped Tim Osborne by passing out flyers to help him win election or made a donation to him, I have a free copy of the Ozzie software to send you (or Riddle Me, take your pick). Please email me and tell me where you helped Tim out and I'll get you a copy of whichever you want.
For the rest of you...well, everyone...I have a pdf file of Marsh's book Wonderkidz. This is the one where he explains how to teach your child at an early age. I will post this file on my website for 2 weeks. After that I'm pulling it as I have plans for something later on with it. You can download a personal copy but please do not post it anywhere for others to download. Here's the link (it's a zipped file and the pdf inside is 250+ pages, but don't let that scare you--the format is for 1/2 page size and it's an email dialog between two people so there's tons of white space and very easy reading):
My Picture
Among all the prized possessions in life, anonymity ranks near the top. My name is no longer anonymous to so many people, but I have been so grateful that I can go out in public and be just another face in the crowd. However, I feel an obligation to show you who I am so that if our paths ever cross, you might think kindly of me and say hi.
Link to my picture (and a particularly fine one at that if I may say so)
Media Articles
As Math Scores Lag, a New Push for the Basics (NY TIMES)
The NY Times just did a great article on our friends up in Washington state also fighting the battle we have waged. Here's a couple paragraphs from the article. No word on whether the night custodian employees were offended by the math educator's remarks...
"When my oldest child, an A-plus stellar student, was in sixth grade, I realized he had no idea, no idea at all, how to do long division," Ms. Backman said, "so I went to school and talked to the teacher, who said, 'We don't teach long division; it stifles their creativity.'
...

After Dr. Milgram of Stanford appeared at a Where's the Math? meeting, Dr. Warfield, an expert on teaching math educators, wrote in a newsletter that when Dr. Milgram told parents to fight for change, it was "implicit in the instructions that mathematicians who do not agree are classified as mathematics educators (a rung or two below the night custodian)."
Gates: U.S. Education System Needs Work
Bill Gates comments on the most non-business like system in America. Here's two clips.
"Real accountability means more than having goals; it also means having clear consequences for not meeting the goals," he said in a speech earlier Monday to Washington state educators who came to hear the results of an education task force.
...

"It's astonishing to me to have a system that doesn't allow us to pay more for someone with scarce abilities, that doesn't allow us to pay more to reward strong performance," he said. "That is tantamount to saying teacher talent and performance don't matter and that's basically saying students don't matter."
How to Respond When Your School Announces a New-New Math Program
For you out-of-staters that email me, here's a link to a great article. In fact, anyone can benefit from reading this as it gives you the lies and the response you should have to educrats to make them prove their case. Put the onus back on them to provide you the data they're spouting out.
Mathematical Beauties
This is pretty cool. A mathematician and artist teamed up to develop a way of doing dynamic system research. Don't ask what that means, just look at the pretty pictures and go "Ooooooo ahhhhhhh".
To get to the full gallery click here: http://www.josleys.com/show_gallery.php?galid=306 (at the bottom you can click to see animations)
WalMart Boycott (non-math related)
For those pro-family folks out there, you should be aware that WalMart has taken actions to provide 5% of all online sales of all products this season to the National Gay and Lesbian Chamber of Commerce. My family won't be buying from WalMart anymore and I just thought I'd pass this on to you. The AFA (American Family Association) has information and a boycott you can sign at:
http://www.afa.net/wmpassalong3.asp
If you feel so inclined, please contact your local WalMart and tell them you can't do business with them anymore. It will have an impact. Hopefully they will reverse course soon. When Kmart banned gun ammo, they uhhh, shot themselves in the foot (sorry) and that was the final nail in the coffin putting them out of business.
Weekly Comic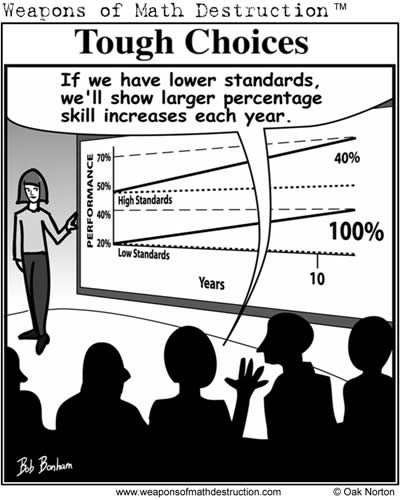 Archive: http://www.weaponsofmathdestruction.com
Till next week,
Oak Norton